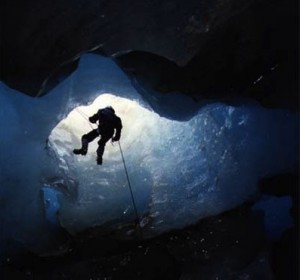 I just finished the book Blind Decent of James Tabor. It came highly recommended by a good friend of mine. The book tells the story of two explorers, one American and one Russian, trying to find the deepest cave in the world, one in Mexico and one in the former Soviet republic of Georgia. The friend recommended it to me since I am a cave diver but this is a totally different level of exploration and diving. It gives me goose bumps.
What struck me the most is how "dry" caving is one of the last frontiers.  It is probably a project manager's worst nightmare. The amount of planning and preparedness that is needed to just get everybody back alive, let alone be successful in exploring virgin cave territory is mind-boggling.
Some of these preparations, however, translate to us simple people for whom a slight misstep does not carry a high risk of death. These include:
Mental preparedness – Staying underground for days or weeks at end involves dealing with total darkness and being wet and cold all the time. This requires significant mental preparation and previous experience build in less extreme environments.
It is good to prepare mentally for any project. To walk through the steps, the potential risks, the expectations of stakeholders and so on. Even athletes these days prepare through mental visualization.
Detailed planning – In cave exploration, a tremendous amount of logistics need to be planned ahead. First of all permits and buy-in from local townships or tribes. Then all the people, tons of materials, sufficient food, heat, and simple things as toilet paper all need to be transported to the cave entrance and the majority of these materials need to be transported miles into the cave down deep slippery vertical descents, tight passages and through waterlogged sumps. People have clear-cut roles and responsibilities to minimize the chance on mistakes.
Looking at the failure rate of projects, a lot more projects could use some of the due diligence needed for cave exploration.
Physical preparedness – It is without doubt you have to be extremely fit and in perfect physical condition for cave exploration. Caves are in general in remote areas and descending in them but even more important ascending out of them is a physical assault on the body.
Our normal day projects are in general not physically demanding, however, studies have proven that being fit and working out help significantly in dealing with stress.
Leadership –It is very interesting to read the totally different leadership styles used by the two cave explorers described in the book. The main thing they have in common is passion, vision, drive and super perseverance. People literally put their lives on the line to realize the leaders dream. Similar leadership is needed for above ground projects, which includes knowing when to stop a project.
I found the book an extremely interesting read because of the psychology, the detailed descriptions of the explorations and reading about people who dare to go where I don't dare to go. On top of that I got these great lessons I can use in my daily life.