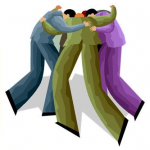 Author: Mitch Rosner
In the UCSC Project Leadership and Communication course, I was asked "what are project management leadership and communication best practices for aligning project work to needs of an organization?" As a experienced project management professional, many thoughts were evoked. Also, as an analytically trained individual, breaking down this statement into its parts helped start the conversation for me.
First, Project management is a discipline that brings about the successful completion of specific goals or objectives within a triple constraint of time, budget and scope (or quality) for a temporary endeavor. This discipline must enable the resources allocated to the project to efficiently meet the objectives set by the organization.
According to Wikipedia (Ref 1) – "best practice is an idea that asserts that there is a technique, method or process – through research and application – that is more effective at delivering a particular outcome than any other technique, method or process."  Most companies will design or document processes to bring a consistency within the organization; these processes are accepted by the company as a standard.
Wow, that seems pretty involved and complex. To align a goal of a temporary endeavor with heavily researched and developed processes may seem counterintuitive to speed and efficiency. Why invest so much in short term work?
Project Management Must Deliver Value
This question should be rhetorical, since a project should only be considered if it brings added value to an organization. If it does not, then it is not aligned to the needs of the organization. Added value is important for growth or improvement of organizations. "There are two kinds of organizations those that are getting better and those that are dying"(Ref 2). Companies losing value will not survive.
But since each organization is different and so are all the individuals within, there really is no universal "best practice." Each organization may want some way to encourage consistency in the process of alignment from vision to mission statement to portfolio to program to project. But it is the individuals that make or break a project as a team. The team members must be motivated to not only complete the objectives, but also deliver within the triple constraint; this assures alignment.
Motivation is Key to Delivering Value
Motivation essentially is the fuel that drives the engine of the project. The role of the project manager has been described as one of a of catalyst (reduces the "activation energy" of the reaction. [Ref 3]) In other words, the project manager helps lower the fuel requirements to complete the goals. The project manager has this motivational effect by creating the appropriate team climate with their leadership skills. Determining the appropriate leadership style for each individual and his/her responsibilities must be assessed carefully (Hersey and Blanchard -Ref 4). While external motivation has temporal effects, internal motivation is sustainable. Internal motivation is very important since it comes from within and is inspirational (Ref 5).
Internal Motivation should be developed early in the project lifecycle beginning at the Definition Phase; input from stakeholders to achieve a "clear, unambiguous and universal [ly]" accepted team project definition can begin this team growth (Ref 5).
Steps to follow for internal motivation:
1) Transparency during the definition phase through questioning, listening, and negotiating followed by clear and comprehendible communication and documentation is actually a "best practice".
2) Start the inclusive planning after definition since it should flow since the team informal ground rules are understood.
3) Of course clear documentation and communication of the team-derived plan and its execution must continue until the project closeout to ensure focus and clarity are continued.
If teams are motivated then the developing inspiration may allow the team to develop to the desired "Performing Stage" described by Tuckman (Ref 6).
Then the project manager can begin to catalyze another project.
Last Thought
The universal best practice to assure the team delivers the product or service the customer requested by the means that the organization desired is quite simple – INSPIRE YOUR TEAM.
About the Author: Mitchell Rosner is a student at UCSC Extension at Silicon Valley in the Project Leadership and Communication Fall 2010 Course.
Reference 1: ©2009, Gina Abudi, MBA Originally published as part of 2009 PMI Global Congress Proceedings – Orlando, Florida, USA
Reference 2: Project Leadership by James Lewis p. 105 [Deming, Edwards. Out of Crisis. Cambridge, MA MIT, 1986 ]
Reference 3: Leadership Challenge by Kouzes and Posner pp.103-106
Reference 4: Project Leadership by James Lewis pp. 81-85
Reference 5: Motivating Your Project Team: Go, Teams, Go! By Steven P. Blais, PMP http://www.allpm.com/index.php?name=News&file=article&sid=1882
Reference 6: Project Leadership by James Lewis pp. 90-91