I've been in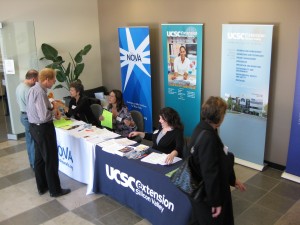 volved with NOVA (one of the best One-Stop Workforce Development agencies in the country) for the past 14 years.  I served on their CONNECT! Stakeholders' committee and had worked with them on several grant-funded programs over the years.  My regard for the organization and staff was to the point that if they called me and asked if I could do something, I simply said "yes" and then figured out how I would accomplish it.   How could I not?   They serve Silicon Valley businesses and workers with job search assistance, business services, training, labor market information and so much more.  On an individual level, if a NOVA employee said they would do something, they did, or had a good reason why not.
I was talking to a friend at NOVA and we discussed that we hadn't worked on a project together for awhile and it was time we stirred something up.  We were tired of all the doom and gloom of the Silicon Valley unemployment environment and wanted to do something that would be positive, would bring positive visibility to both our organizations, and, very importantly, wouldn't incur much cost to either of our cash-strapped organizations.  Both of us had plenty of work to do but couldn't resist the opportunity to develop this project to hold a free Career Event that would be open to both employed and unemployed to explore many of the professional career options that might be options to them now or in the future.   Both organizations were supportive but emphasized the limited resources (money and personnel.) So that's when my NOVA friends began to reach out to an incredible army of volunteers ready and willing to participate in this event.
We first talked in August, 2009, met in September, didn't get firm approval until January and on May 7, 2010, we held the first ever Career Forum at UCSC Extension in partnership with NOVA.   There was an opening session on social media, three breakout sessions on business and management, IT, and Bioscience careers that were repeated to allow participants to attend at least two sessions.  There were mini career-advising sessions throughout the afternoon and professional associations were invited to have booths where they could have information about the benefits of their organizations. A networking session closed out the day.
Over 400 people registered for the event.   Over 15 professionals offered to keynote or be a panel member.   Over 20 volunteers from the community jumped in to offer to do crowd management or help wherever they could.   My ever resourceful NOVA friend solicited food contributions from local businesses. The Santa Clara Chamber of Commerce jumped in to assist.   Staff of both NOVA and UCSC Extension helped, some of them donating their own time to assist.   The event was a wonderful success, accomplishing all of Extension's and NOVA's goals.    Attendee and volunteer feedback was very enthusiastic and asking "when can you do this again?"  The answer is "when the stars align to bring partners together again that have the level of trust that I did with my NOVA friends."